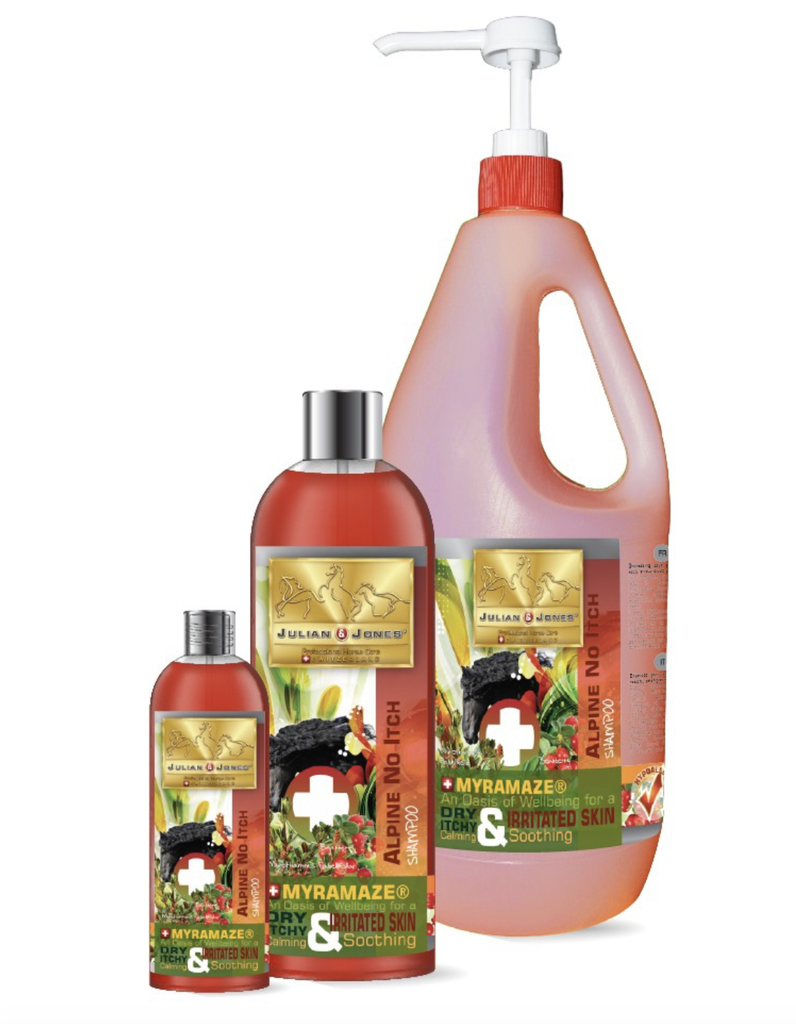 Alpine No Itch Shampoo
---
An OASIS OF WELLBEING for Skin & Hair
- SHAMPOO for DRY, ITCHY and IRRITATED skin and coat - by Julian&Jones
---
A gentle, calming treatment shampoo with the innovative Swiss ingredient MYRAMAZE®. 

This shampoo combines the highest quality blend of natural moisturisers, soothing botanical plants extracts such as Myrothamnus flabellifolia and Bearberry, pure essential oils and Ichthyol Pale®. It revitalises the attacked skin, rehydrates and strengthens the skin barrier.  The skin will be relaxed, hydrated and soothed. The coat will become clean and shiny.

It can also be used as a relaxing treatment for the skin and coat after sun exposures.

The CONCEPT:    Learned from nature: Rapid skin regeneration through membrane stabilization.             
In the desert-like environment of South Africa lives the Myrothamnus flabellifolia, a refractory resurrection plant with a unique adaptation strategy: defying its extreme environment, it overcomes long and hot periods of drought in a completely dried-out state and grows in the first rain drops within a few hours.This resurrection effect can also be transferred to the skin: MYRAMAZE®.The established use of the Quinicacid derivatives (Myrothamnus flabellifolia) is to fight against allergic reactions, burn- and wound-healing.Furthermore it will support the protection of skin lipids (cell membrane and extracellular lipid matrix) from oxidation and the protection of cell membrane from damage caused by dry spells.

The Arbutin (Bearberry plant) is a glycoside; a glycosylated hydroquinone extracted from the bearberry plant. The Bearberry plant has sun protection properties.

Further active ingredients are micronutrients like Polyphenols and Trehalose. Polyphenols are packed with antioxidants. Trehalose is a natural alpha-linked disaccharide. It affects the ability of plants and animals to withstand prolonged periods of dry spells. It has high water retention capabilities.

Method of use   Rub it well into the coat, allow it to stay on a few minutes (5-10 min) and rinse off with lukewarm water.
Packaging : 500 ml or 2L